Milwaukee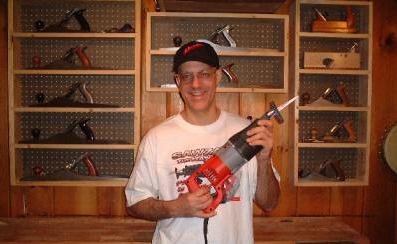 This is the Golden Age of Power Tools, and lots of great tools are being built by lots of manufacturers. However, some manufacturers, especially those who feature a complete line of tools, have real junk mixed in with the good stuff. Even some of my favorite manufacturers have the occasional clinker.

The one exception to the rule seems to be Milwaukee. Every Milwaukee I've touched is built right. After doing a lot of research and using a lot of different tools, I feel comfortable saying that each Milwaukee product pictured is the best of its kind-the best fixed-base router, the best jig saw, the best battery pack, the best cordless drill. the best cordless circular saw, and the best jobsite radio.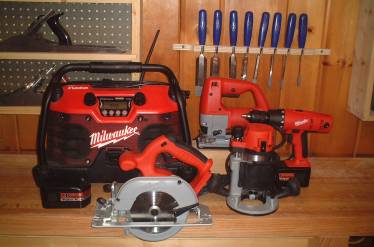 Router


The right router makes all of the difference. I've owned quite a few, and I've used or examined quite a few more, and the best (by far) is the Milwaukee Body Grip. It comes in two models, the 1 ¾ HP, or a new 2 ¼ HP with a variable speed soft-start motor.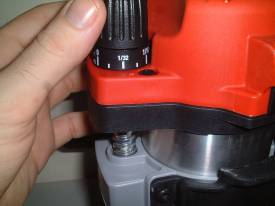 Lots of routers have a micro-adjust, but often the micro-adjust has a limited range. The Milwaukee micro-adjusts through the complete range of the router.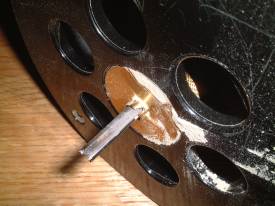 Many fixed base routers move up and down by rotating on the base. Even on the best of those routers the bit is a tad off-center. Therefore, changing the bit depth also changes the bit-to-fence distance, or (even worse) how it is centered in a guide bushing. I had this bit perfectly centered in the bushing, but when I changed the bit depth the bit was no longer centered and it chewed up the bushing. This would NOT have happened with my Milwaukee. That brings up the only disadvantage with the Milwaukee Body Grip. If you do wish to use guide bushings with it, you'll have to purchase a new sub-base, which costs about ten bucks.


Bit changing requires two wrenches, but they stay in place nicely and I can change bits more quickly on the Milwaukee than on my "one wrench" routers. (Just for the heck of it, I decided to time myself. At a moderate rate I change bits in under 40 seconds, although I was able to get my speed down to 22 seconds by rushing like a maniac.)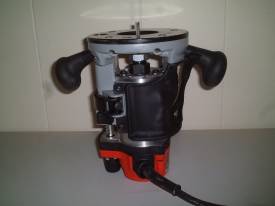 Being able to stand the router on its top makes changing bits much easier.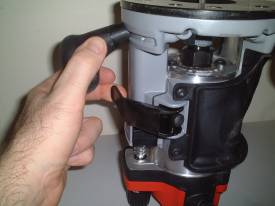 Removing the base is easy. First, you flip a lever...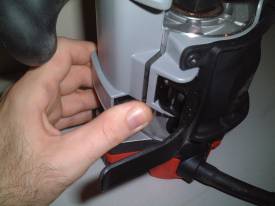 Then you press a button, and the base comes right off.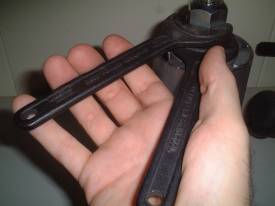 A lot of woodworkers gripe about two-wrench bit changes, but I think it's a lot easier than fussing around trying the engage the spindle lock, then using one hand to hold a wrench and the other trying to hold the router. Drawing two wrenches together is a smoother, more elegant procedure.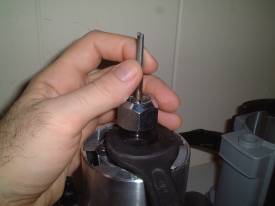 The bits come out of the collet easily, something that wasn't true on older routers.


Cordless Combo Kits
Milwaukee is King of the Cordless. In April 2003, Workbench magazine tested cordless combo kits (drills and circular saws) from several manufacturers, and, according to them "These tools are superior by nearly every measure," and the kit got the Editor's Choice award. They went on to say, "Our opinion of this set is that it was built with no compromises."

Drill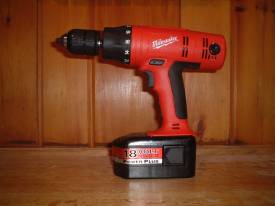 As with routers, I've used plenty of cordless drills. My DeWalt is okay, but my Dad's Porter Cable is better, and the Milwaukee tops them all. The chuck is great-all metal with carbide jaws and a ratchet so you can tighten or loosen the jaws with one hand. However, once tightened, the chuck holds on like grim death. It also has a "quiet" spindle-lock mechanism, and I'm not sure what that does, except that when I let go of the trigger on a Rigid (which looks like its trying to copy the Milwaukee) there was the awful sound of metal-on-metal, and the Milwaukee stops much more gracefully. According to the Milwaukee website this increases durability, and judging from what I heard, I can believe it.

Circular Saw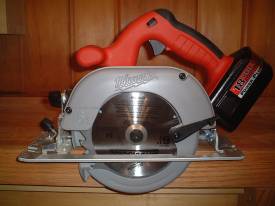 It has a 6 ½" blade (large for this type of saw),the best edge guide in its class, a magnesium shoe and blade guard, and the battery pack delivers more cuts than any of its competitors. Again, getting back to Workbench magazine, they said, "We found this saw to be finest in terms of overall construction and fit and finish."

Before I got this saw, I figured I'd rely on my corded circular saw for most work and use the cordless only when necessary. However, it is so much easier to use and does such a great job that it has become the tool of choice in most circumstances.

My combo kit also came with a Milwaukee Sawzall Hatchet. It's the only one of its kind and it can reach between studs and do a lot of cool stuff, but I'm more into woodworking than construction, so it probably won't see a lot of use. I also got a flashlight with the kit, which is handy, plus a great bag to carry everything.

Jig Saw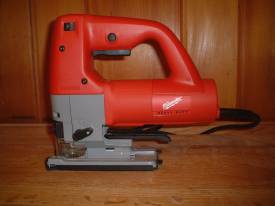 This saw outperforms the competition, and that's saying something. My dad has a Bosch jig saw, and it is a great saw-relatively easy blade changes, a powerful motor, and quality construction, and for years it was the best. The new Milwaukee 6266-22 is even better. It has a larger motor (6.2 amps instead of 5), super easy blade changes, a short nose on the base plate (for cutting into tight corners), a dust collection port that can be hooked to a vacuum, and quality construction.

Radio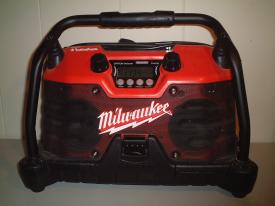 There aren't a lot of jobsite radios out there. Sears had one for a while, but it disappeared from the store quickly, and it didn't seem to have the rugged construction of The DeWalt and Milwaukee. The DeWalt is both a radio and a battery charger, and that is pretty cool. The Milwaukee does not charge batteries, and I must admit that I would have found that handy. Other than that, the Milwaukee has the DeWalt beat in every aspect. The Milwaukee has better sound, digital tuning, presets for your favorite stations, a better battery, weather band, and a "cigarette lighter" style power outlet. That last function might seem odd, but my Milwaukee radio got me through a power outage, and I learned to appreciate that little feature.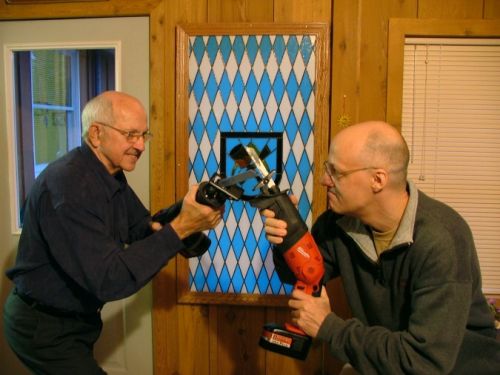 You can have my Sawzall when you pry it from my cold, dead hand.
Here's a shot of my Dad and I having a spirited discussion about which brand is better—Bosch or Milwaukee.