Shopsmith Band Saw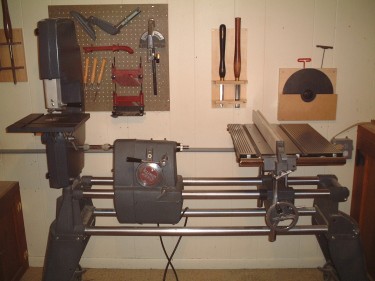 Power
To the best of my knowledge, you have to step up to 220 volts to find a band saw that has more horsepower than the Shopsmith. Because itís powered by the Mark V headstock, the Shopsmith can easily handle thick slabs of wood that would strain the motor of many 14 inch stand-alone band saws.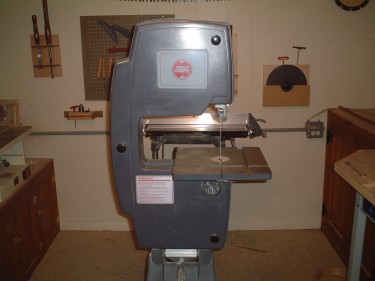 Capacity
Band saw capacity is measured two ways. One is its ability to crosscut wood. Under normal circumstances, the widest piece of wood that can be cut from the Shopsmith is 10 ½ inches. However, you can reverse the blade guides and twist the blade to a 30 degree angle from the sawís frame, making the crosscut capacity virtually unlimited on workpieces that are less than 3 7/8 wide.
The other way capacity is measured is the thickness of wood that can be cut. This is sometimes called resaw capacity. The Shopsmith can cut wood that is six inches thick, which is something that not all 14" band saws can do.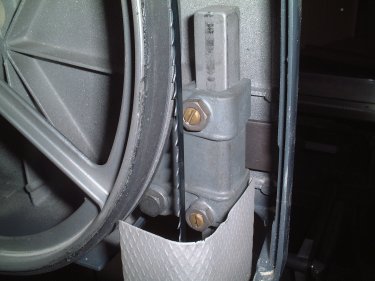 Blade Guard/Guide Bar
Unless the bar that guides the blade guard and upper blocks is stable the saw cannot be accurate. Your adjustments will be thrown out of whack as the guard is raised or lowered, or it will move out of place under the pressure of the workpiece contacting the blade. The Shopsmith has a stable bar, and it can be adjusted so there is no slop whatsoever. Two set screws, held in place by jam nuts, keep the guide bar steady and on track.






Guide Blocks

Like many other band saws, the Shopsmith accepts Cool Blocks. This inexpensive upgrade will greatly add to the accuracy of your saw.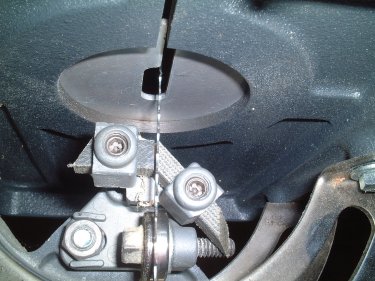 The lower guide blocks on the Shopsmith are near the table, which reduces the distance between the upper and lower blocks and greatly increases accuracy.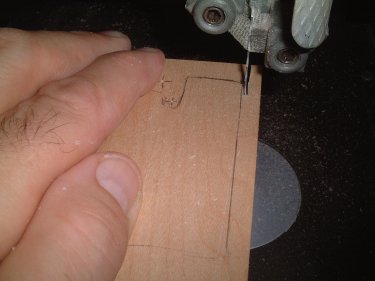 Cutting Curves and Irregular Shapes
One common task in my shop is cutting a thick slab of hardwood for a banjo neck. I like to use a ¼ inch blade and cut close to the line, which means that the band saw has to be accurate under some pretty demanding circumstances. The Shopsmith does a great job, making a precision cut with few machine marks.

Resawing wood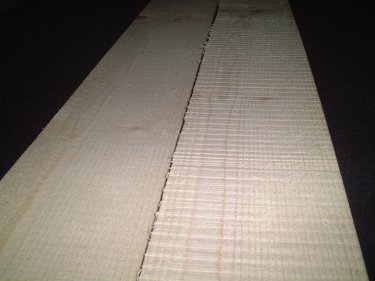 Any band saw should be able to resaw wood simply by setting the fence and cutting the wood. However, since so many band saws canít do that, woodworkers have learned to settle for less. "Solutions" such as using a curved fence are ridiculous.

Both of these pieces of wood were resawn from the same blank. One was cut with a $1500 Laguna Band Saw using a $168 Resaw King one-inch blade. The other was cut with a Shopsmith band saw using a $12 quarter-inch hook-tooth Woodcraft blade.

The slab on the left, the clean one without the machine marks, was cut on the Shopsmith.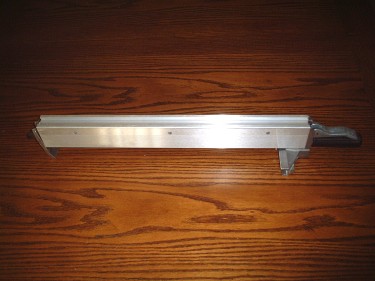 Fence
Shopsmith has the best fence of any bands saw on the market. It locks at the front and the back, and can be easily adjusted for drift. Every band saw, including the Shopsmith, has a certain degree of "drift" in the blade, and the fence must be adjusted to compensate. In a review of 14" band saws, Fine Woodworking magazine found that most band saw fences could not be adjusted for drift, or the drift-adjustment is too limited.

Parting Thoughts
Owners of inexpensive 10 or 12 inch band saws might be tempted to "upgrade" to a larger saw in order to gain power or accuracy. A bigger band saw will get you more capacity, but most bigger saws cannot match the power and accuracy of the Shopsmith.

Here are my thoughts on some other band saws. My opinions are based on my own experience (Iíve owned five band saws and used several others) and an excellent article in issue 153 of Fine Woodworking: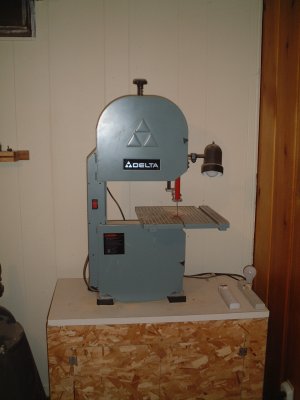 Delta
Iíve had two Delta band saws (a 10" and the 12" shown in the picture) and they were incredibly inaccurate. I understand that the Delta 28-280 is a better machine, but Delta has burned me twice already, so Iím not going to give them another chance.

General 90-100 M1
Shop Fox G9970
These two saws are twins. The frame is beefy, but the guide bar isnít and can be deflected. Limited blade-drift adjustment.

Central Machinery 32206-1VGA
Fence doesnít adjust for blade drift.

Craftsman 22414
Fence doesnít adjust for blade drift.

Grizzly G1019
Fence doesnít adjust for blade drift.

Reliant DD90
Fence doesnít adjust for blade drift.

Ridgid BS1400
Underpowered, fence has limited ability to adjust for blade drift



Return to Top