General International Table Saw Review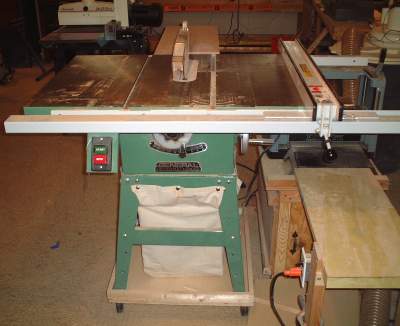 Iíve had a number of emails regarding the GI table saw, so I decided to give it a dedicated page.

I spent about two years looking at contractor saws before I decided on the General International. I feel it is the best contractor saw available, although several other saws also deliver good performance.

The GI has the biggest motor in its class. It delivers two horsepower while only drawing fifteen amps. It has both a start capacitor (to get the engine going) and a run capacitor (to give an extra boost when it starts to bog down). Jet and Powermatic have only a start capacitor. Like many other saws, the motor on the GI can be wired 110 or 220.

It has a substantial trunion and tilt mechanism. Like most contractor saws, the GI uses a rack and worm gear mechanism to tilt the blade. A few saws, like the current Ridgid and the old Craftsman, use a threaded rod that is anchored to the flexible stamped steel body of the saw. This is a serious design flaw that makes the tilt mechanismís "positive" stop mushy and worthless. Most saws, including the GI and the current Craftsman, avoid this problem.

The General International fence is one of the best, and has been rated best in woodworking magazine tests. I would say that it is nearly equal to the Powermatic fence, which I slightly prefer.

Dust collection on any contractor saw is lousy, and comparing the dust collection of one contractor saw to another is an exercise in futility. If youíre serious about dust collection youíll have to make some improvements of your own. You can click here to see what Iíve done to improve dust collection on my saw.

The blade guard and splitter are about the same as youíll find on most saws. I replaced the nuts and bolts on the back of the splitter with a thumbscrew and wing nut, so now removing and replacing the splitter is lot easier. The guard that came with the saw was fine, but Iíve switched to an Excalibur blade cover because it provided me with better dust control.

The GI also has some nice extras. The hand wheels are heavy metal, not plastic. It has a great miter gauge with a recessed ball bearing that keeps it tight in the miter slot. My saw was aligned perfectly when it came from the factory, which meant that I didnít have to crawl underneath the saw and adjust the trunion.

Several visitors to my website have reported problems with the fit and finish of their GI saws. One potential problem is that when the blade is lowered all of the way, it can contact the trunion. This is a potential safety hazard, and I am not sure it exists on every saw, but it is certainly the case with some of them. Iíve also heard reports of holes that donít line up, making the process of bolting the saw together a near impossibility.

Click here to read another review of this saw. It also has some other great links regarding the GI saw, and anybody who is considering buying this machine should visit this website.

Wayne Carney, a web visitor from Canada, has his own gripe with this saw. It sells for $700 in the United States (which is fifty bucks cheaper than what it cost me five years ago), but it sells for $950 in Canada, despite the fact that General International is a Canadian company and (as of this writing) the Canadian dollar is stronger than the U.S. dollar.

Finally, I am aware that some of these comments are contrary to the table saw review that was recently published in a popular woodworking magazine. In November of 2000 this particular magazine reviewed table saws and the Ridgid came in dead last. In June of 2005 they reviewed table saws and Ridgid was ranked first. Although the Ridgid saw has undergone a few changes, it still has the same flawed tilt mechanism that earned criticism five years earlier.

If I had to pick...
My Favorite Mid-Priced Saws...


1. DeWalt (DW 746)
2. General International (50-185)
3. Powermatic (64A)
4. Jet (JWTS-10CW2-PF)

Honorable Mention


Craftsman (22114)
This might be a great saw, but I havenít had enough experience with it to judge it with any degree of accuracy. From all appearances and from what Iíve heard itís a good saw at a good price.

Best Saw if Youíre on a Budget


Ridgid (TS3650)