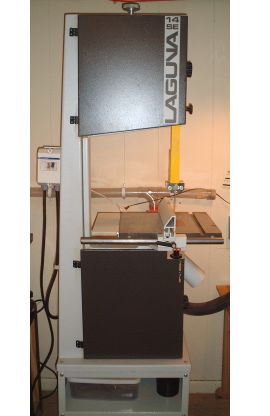 Laguna Band Saw
Review




Excellent Band Saw

Disappointing Customer Service


Yeah, itís a good saw, but fifteen hundred dollars is a lot of money to fork over for a fourteen inch band saw. At that price I also expect excellent customer service.



There was some rust on the part of the rip fence that contacts the rail. Laguna wanted me to send in the fence and wait for a replacement. At this price, I would expect them to send me the replacement first, especially since the machines are made in Bulgaria and I have no idea how long it takes for a replacement part to arrive.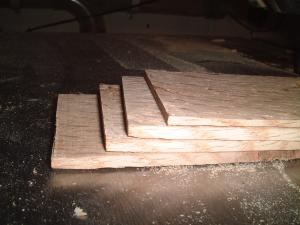 In terms of actual performance, the saw is fantastic. Resawing wood is a snap. Once the fence is aligned with blade (that takes about one minute) all you have to do is set the fence and cut the wood. In most woodworking magazines youíll read that you should use a curved fence or whatever to make up for the drifting blade, and for every other fourteen inch saw Iíve used (including Jet, Delta, and Rigid) thatís true. The cuts are nearly perfect, especially if I hold the wood tight against the fence.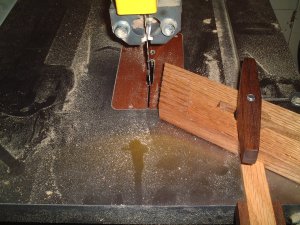 I built this featherboard to keep my fingers away from the blade. It seems to work well, although Iím not sure how effective it will be if I resaw wide stock.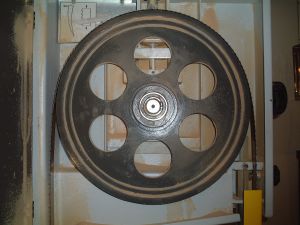 The saw is built like a tank. Everything from the frame to the wheels is extra-heavy. It is powered by a two horse Baldor motor that can be wired 220 or 110. The ceramic guide blades hold the blade in place, and there is no wandering at all. I wanted the best fourteen inch band saw available, and I believe I got it.

So, Iíll clean up the rust as much as possible and hope for the best. I donít think itís right, but Iím not going to send the fence to California when I canít even get an email from my sales rep.

Want a second opinion? See what Joe Woodworker has to say about his Laguna Band Saw by clicking here.

To see how the Laguna compares to the Shopsmith and other band saws, click here.